Nutritional information is included at the bottom of this recipe.
My mom is an awesome cook, and she sometimes surprises me with amazing dishes made from ingredients I previously thought I didn't like. I've never been a big fan of cauliflower, and I'm not a big soup eater.
But her vegan cauliflower soup blew me away the first time I had it. I just couldn't stop eating it! Now it's one of my all time faves, and I even bought an immersion blender so I can make it myself. Yum!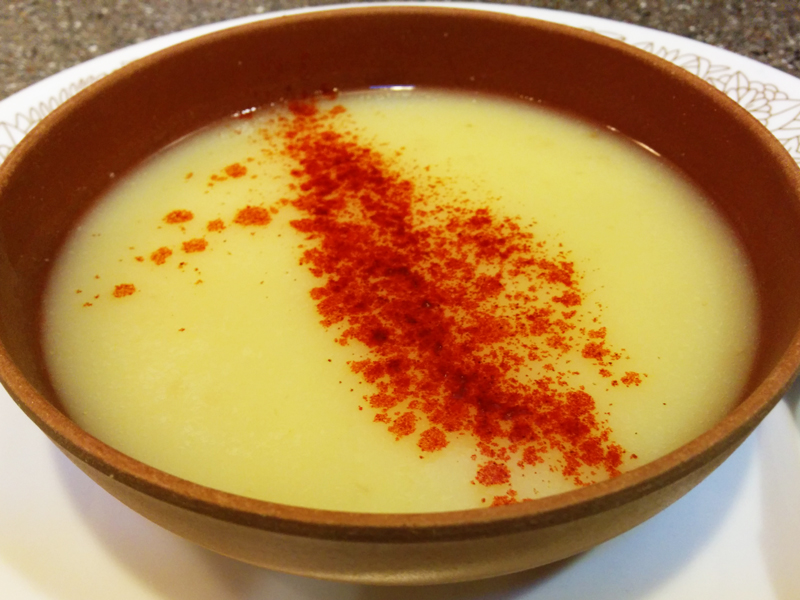 Besides being insanely tasty, this soup is incredibly easy to make. It's also super healthy since with no added oil it's extremely low in fat. So simple, so delicious. You can't beat yummy, easy, and healthy, so let's get cooking!
Mom's Creamy Vegan Cauliflower Soup
Ingredients:
1 head cauliflower, medium size
1 small Yukon Gold or other waxy potato
1 tablespoon fresh lemon juice
6 cups water
3 teaspoons Better Than Bouillon No Chicken Base – sometimes I cheat and add a little more since I love the flavor so much, but be aware that increases the sodium content substantially

 Directions:
Prepare the cauliflower by removing the core and green leaves. Trim off any brown spots, cut it into smallish chunks, and rinse them.
Prepare potato by rinsing and cutting into thin slices.
Combine all ingredients in a soup pot or a saucepan large enough so that level of liquid is at least 2" below rim of pan (to leave room for immersion blending, see below). Liquid should be 2-3" deep.
Bring to boil and simmer for 25-30 minutes, until cauliflower is very soft. You can test how soft the cauliflower is with a fork.
Remove from heat and process with immersion blender until smooth and velvety. It's important to mix it well, such that all of the potato is completely blended. This releases the starch in the potato which gives the soup its creamy texture.
Serve with a sprinkle of paprika!
The recipe makes around 8 cups of vegan cauliflower soup, enough for six servings. Nutrition information per serving is in the chart at the bottom of the post.
Important tips on using an immersion blender
The immersion blender is an awesome tool, but it can be a little tricky the first time you use one. Here are some tips:
Never use an immersion blender with nonstick cookware, as it can damage the nonstick coating
Use a deep pan, as the blender will splatter liquid when it's near the surface
Angle the blender as you move it around, and lift it up and down a bit, so the blades can get at the chunks that haven't been blended yet
We're definitely not endorsing the ingredients in the recipe in this video, but it's the best video we've found showing how to actually use an immersion blender:
Finally here's the nutritional information for the vegan cauliflower soup recipe. If you have any questions please let us know in the comments below. Enjoy!
| Ingredient | Calories | Calories from fat | Fat | Sodium | Carbs | Sugars | Protein |
| --- | --- | --- | --- | --- | --- | --- | --- |
| TOTAL PER SERVING | 53 | 5 | 0.3g | 349mg | 13g | 2g | 2g |
| Cauliflower | 14 | 2 | 0g | 9mg | 3g | 1g | 1g |
| Potato | 27 | 0 | 0g | 5mg | 6g | 0g | 1g |
| Lemon juice | 4 | 0 | 0g | 0mg | 3g | 1g | 0g |
| Better Than Bouillon | 8 | 3 | 0.3g | 335mg | 1g | 0g | 0g |