UPDATE: This recipe was originally posted at HathaYoga.com. Nutritional information is included at the bottom of this recipe.
I've made a lot of variations of vegan tofu scrambles in my time, but this one is hands down my favorite. It's incredibly tasty with fantastic texture, and is super healthy for you to boot. It's also easy and quick to make. Can't argue with that!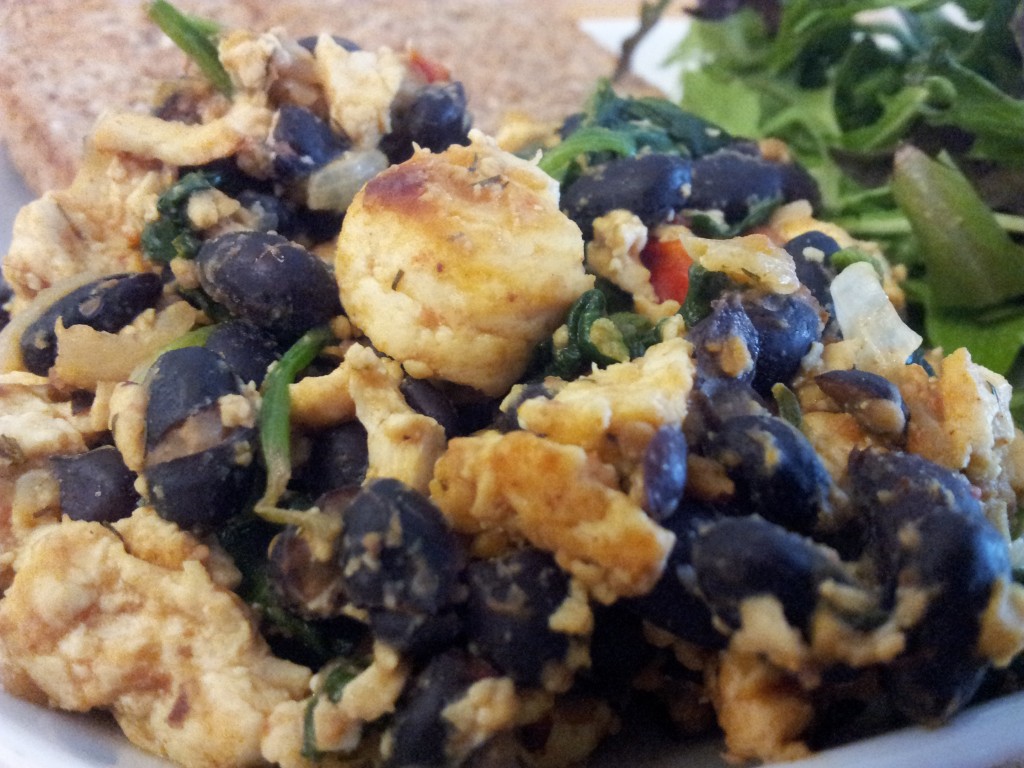 This scramble is super low fat since it's cooked using no oil at all, not even when frying. All of the ingredients are extremely low fat. In fact, what little fat is in the dish comes from the low fat tofu!
Vegan tofu scramble with black beans
14oz block of Nasoya Lite Firm tofu
1 can of Trader Joe's organic black beans
5oz bag of Trader Joe's organic baby spinach
1/2 of a yellow onion
8 grape tomatoes
2 tbsp of nutritional yeast
1/2 tsp of turmeric
1/4 tsp organic dill weed
1 1/2 tsp Better Than Bouillon "No Chicken Base"
a dash of black pepper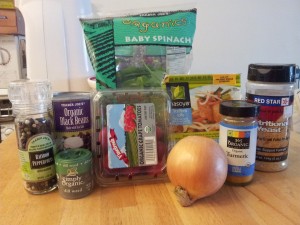 The magic ingredient is the Better Than Bouillon "No Chicken Base". I first learned about it when making a dish from Vegan Cooking for Carnivores, a cookbook by Ellen Degeneres' chef Roberto Martin. It's so good that sometimes I make the broth and just eat it like "chicken" soup! (seriously!)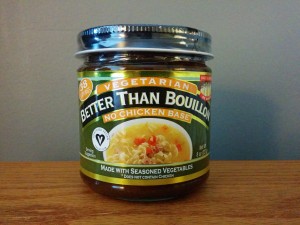 Frying without oil
First off, as with all oil free cooking, you will need a good nonstick pan. The one I used here is the Wearever Ceramic Cookware Pure Living 10.5″ pan.
Now let's start! Dice the onion, and fry it in the nonstick pan over medium heat using about a quarter cup of water (instead of oil). If the water evaporates before the onion starts to brown, you can add a little more water.

While the onion is frying, drain the tofu and rinse the beans. Also, prepare the bouillon by adding the Better Than Bouillon paste to one half cup of boiling water.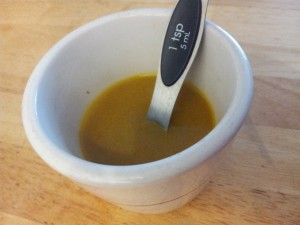 When the onion is ready, add the tofu into the frying pan. You can break it into chunks by hand, or just chop it up with your spatula as you stir it into the onions.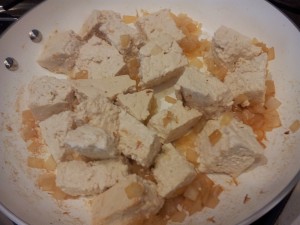 Next add the nutritional yeast, turmeric, dill, black pepper, and bouillon.  Make sure it's well mixed, but without mashing the tofu so much that it loses its chunkiness.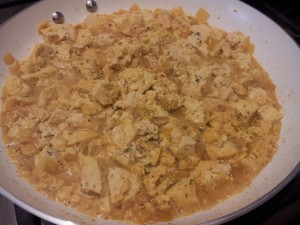 Chop the grape tomatoes into quarters. Add the tomatoes and black beans to the mix.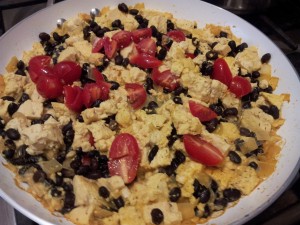 Let it all cook for about 15 minutes, turning it over with a spatula about every 5 minutes or so until it starts to brown. Once the mixture is browned, you're ready to add the spinach. Adding a whole bag will seem like a lot when you put the fresh leaves in, but it's amazing how much they shrink once they start to cook!

Once the spinach has wilted into the mix, you're vegan tofu scramble is done! Serve with fresh greens of your choice on the side (we love arugula) and a piece of toast. No one will ever guess there's hardly any fat in it!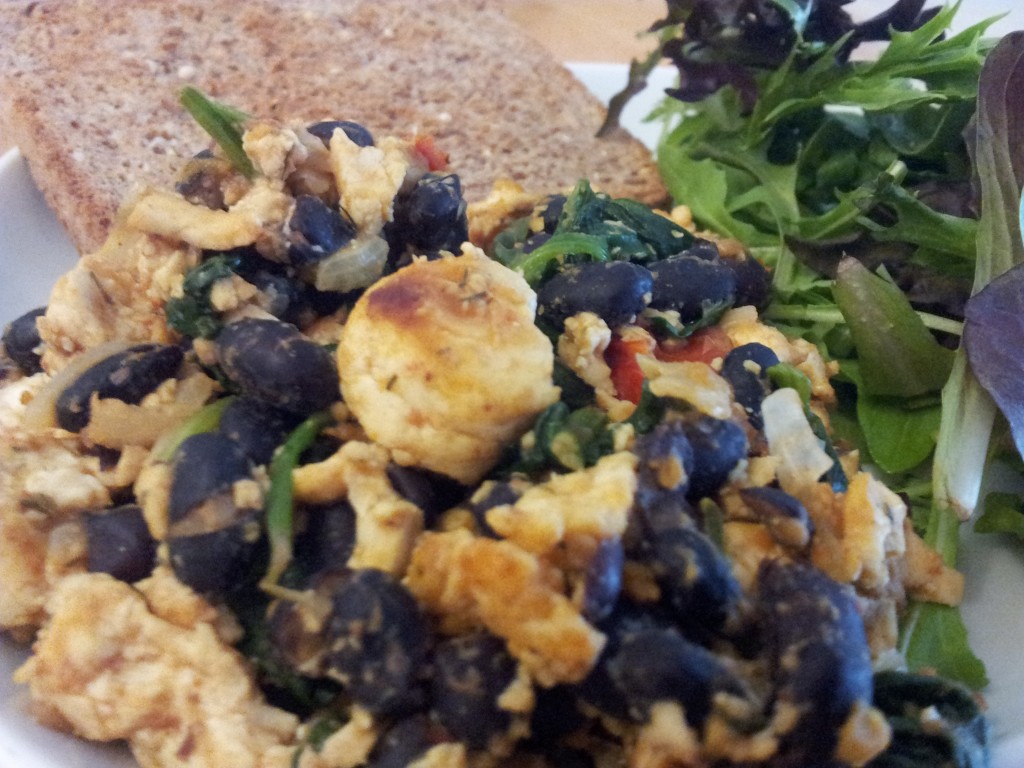 UPDATE: By popular demand, here's the nutritional information for the recipe. Note that all values are PER SERVING, calculated assuming the recipe makes 4 servings.
| Ingredient | Calories | Calories from fat | Fat | Sodium | Carbs | Sugars | Protein |
| --- | --- | --- | --- | --- | --- | --- | --- |
| TOTAL PER SERVING | 196 | 23 | 2g | 480mg | 26g | 2g | 19g |
| Tofu | 51 | 17 | 2g | 73mg | 1g | 0g | 9g |
| Black beans | 88 | 0 | 0g | 123mg | 17g | 0g | 6g |
| Spinach | 10 | 0 | 0g | 33mg | 1g | 0g | 1g |
| Onion | 5 | 0 | 0g | 0mg | 1g | 1g | 0g |
| Tomatoes | 14 | 1 | 0g | 4mg | 3g | 1g | 1g |
| Nutritional yeast | 23 | 3 | 0g | 4mg | 2g | 0g | 3g |
| Turmeric | 0 | 0 | 0g | 0mg | 0g | 0g | 0g |
| Dill | 0 | 0 | 0g | 0mg | 0g | 0g | 0g |
| Better Than Bouillon | 6 | 2 | 0g | 244mg | 1g | 0g | 0g |
All values are rounded to the nearest integer. If you have any questions please let us know in the comments below. Bon appetit!