For everyday cooking a 10″ skillet is my "go to" pan. It's small enough to handle easily, but large enough to cook a hardy meal for one or two with plenty of leftovers. I recently picked up the Wearever Ceramic Cookware Pure Living 10.5″ pan. It performs about as well as any nonstick pan I've owned. It has a couple of minor aesthetic issues (mentioned below), but it boasts a price tag that can't be beat.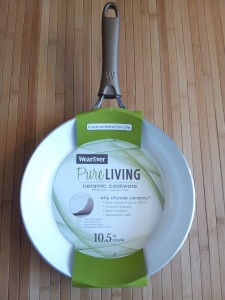 On the surface
The Wearever pan is roughly comparable to the Bialetti Aeternum, both of which feature a bright white cooking surface. I do a lot of cooking by eye, so I'm partial to a white cooking surface. Cooking on white makes it really easy to see how things are coming along.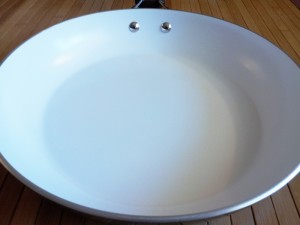 Overall the construction and quality are solid and functional. The nonstick surface is exactly what you'd want it to be. Whatever you're cooking just slides right off, and it's amazingly easy to clean (see below).
The pan has an aluminum core, which means it heats very quickly. That's great for most people, but if you have an induction stove it won't work for you. The pan has a metal rim which protects the edge of the cooking surface. The outside of the pan has a gold coating which is also very easy to clean.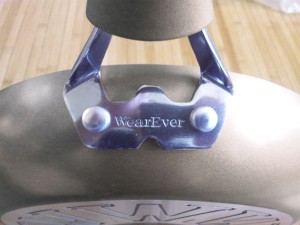 Getting a handle on it
The silicone handle is a deep gold color, matching the outside of the pan. It provides a comfy grip that doesn't heat up at all while cooking. It's attached with two rivets through the pan into the cooking surface.
It's not major issue, but having the rivets exposed inside the actual cooking surface isn't ideal. The edges of the rivets collect what you're cooking, and are actually the hardest part of cleaning the pan. It's not my favorite design, but a lot of other more expensive brands like Calphalon and Cuisinart are constructed the same way.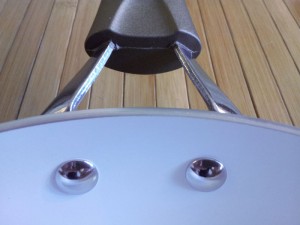 The design of the handle does feel slightly on the cheap side. The top half and the bottom half of the handle are two separate pieces of silicone which are bonded together. This results in a seam running horizontally through the middle of it (as you can see in the picture above). It's not a huge deal, the handle is definitely solid and won't fall apart. But if aesthetics are important to you it's worth mentioning.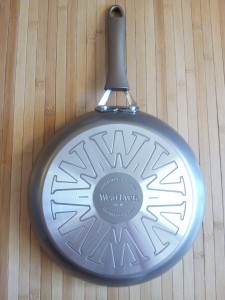 Wearever ceramic cookware
The bottom of the pan is exposed aluminum. Some ceramic pans, such as the Bialetti, have a coated bottom (check out Maria's review of the Bialetti here). In general an uncoated surface transfers heat more quickly and efficiently than a coated surface. In addition, the uncoated bottom's radial textured surface and repeated "W" pattern maximize surface area, so the pan heats up very quickly.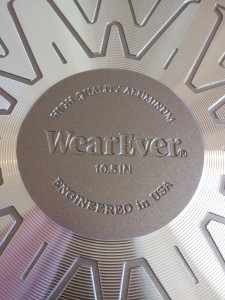 The downside to the textured bottom is that if you get it dirty, it can be harder to clean. This isn't a big deal for most people, since wear on the bottom is inevitable for any pan.
Keep it clean
Washing the pan is a breeze. With a little soap the soft side of a sponge completely cleans the pan in seconds, leaving the pan looking like new.
As always we recommend not cooking with any oil, including cooking spray. Besides being bad for your health, it will dramatically reduce the life of your pan. If you don't use oil, you won't have to scrub hard to remove it, so you won't end up taking off the nonstick coating off with the grease!
The manufacturer does claim that Wearever ceramic cookware is dishwasher safe, but we recommend always washing by hand. We also recommend cooking on low to medium heat. It can take a bit longer to cook, but you won't burn your food or the pan. Lastly we recommend using wood or bamboo utensils to avoid damaging the cooking surface.
Comparable quality with a budget price
Overall the Wearever pan is very functional. It's a great all around pan which is sturdy but light. If you don't mind some minor aesthetic issues, the Wearever Ceramic Cookware Pure Living 10.5″ pan is a competitive quality option at an extremely affordable price.