Cookware sets called "15 piece", "12 piece", or "10 piece", really just have 5 or 6 pieces of actual cookware. The sets also include a few lids, and the rest of the "piece" count is filled out with plastic utensils or other small accessories. That's fine, lids and utensils are important, but you want to compare the various sets on an apples to apples basis. That's where our guide to the best nonstick cookware comes in.
Besides piece count, the other crucial feature of nonstick cookware that can be very confusing is the type of nonstick coating. Brands love to make up their own fancy names for their coatings. But the fact is all nonstick coatings fall into one of two categories: PTFE, and ceramic. We here at Love Low Fat use both PTFE and ceramic. For details see our in depth explanation of coating types below the guide.
Column titles are explained at the bottom of the guide. You can sort the table the way you like by clicking on any column header. For example you can sort the table by price, number of pieces, or type of nonstick coating:
Set
Coating
Pieces

Price

Dish washer safe
Colors
Score
T-fal Initiatives Ceramic Nonstick 14-Piece Cookware Set
Ceramic
6 pans
4 lids
$83.23
Yes
Black
3.9
Cook N Home 15 Piece Nonstick Cookware Set
PTFE
6 pans
4 lids
$50.33
Yes
Black

4.3
Ozeri Green Earth 3-Piece Frying Pan Set
Ceramic
3 pans
$58.99
No

Green

3.7
Anolon Advanced Bronze 11-Piece Cookware Set
PTFE
7 pans
4 lids
$299.85
No
Bronze
4.6
Circulon Symmetry 11-Piece Cookware Set
PTFE
7 pans
4 lids
$239.99
Yes
Black
4.5
Concord 7 Pc Eco Ceramic Cookware Set
Ceramic
4 pans
3 lids
$66.15
No
Red
4.2
Cook N Home 10-Piece Cookware Set
Ceramic
6 pans
4 lids
$53.51
No
Green, Red
4.5
Cuisinart GreenGourmet 12-Piece Cookware Set
Ceramic
6 pans
5 lids
$207.99
No
Charcoal gray

3.5

Cuisinart Chef's Classic 14-Piece Cookware Set
PTFE
7 pans
6 lids
$160.04
No
Black
4.3
Earth Pan 10-Piece Cookware Set
Ceramic
6 pans
4 lids
$133.99
Yes

Charcoal gray

3.6

Heuck Classics 8-Piece Cookware Set
Ceramic
5 pans
3 lids
$53.33
No
Red
4.6
Paula Deen 15-Piece Porcelain Cookware Set
PTFE
6 pans
4 lids
$100.01
No
Speckled porcelain exterior in Red, Aqua, Oatmeal, Butter, or Pear with copper color-accented knobs

4.4
Rachael Ray 10-Piece Cookware Set, Orange Gradient
PTFE
6 pans
4 lids
$100.99
No
7 color options
4.4
Rachael Ray 14-Piece Cookware Set
PTFE
8 pans
6 lids

$166.14
Yes
Gray with orange handles
4.5
Rachael Ray 10-Piece Cookware Set
PTFE
6 pans
4 lids
$116.99
Yes
Gray with orange handles
4.5
Simply Calphalon Nonstick 10 Piece Set
PTFE
6 pans
4 lids
$119.99
No
Charcoal gray

4.4
T-fal Signature 12-Piece Cookware Set
PTFE
6 pans
3 lids
$66.94
Yes
Black,
Blue,
Red

4.5
T-fal Initiatives 10-Piece Cookware Set
PTFE
6 pans
3 lids
$53.54
Yes but warranty excludes dishwasher damage

Charcoal gray exterior, Black interior

4.3

T-fal Specialty 3-Piece Skillet/Fry/Saute pan set
PTFE
3 pans
$21.54
Yes
Black

4.4
T-fal Ultimate Thermo-Spot Heat Indicator 12-Piece Cookware Set
PTFE
6 pans
4 lids
$95.99
Yes
Gray
4.6

T-fal Professional Thermo-Spot Heat Indicator 10-Piece Cookware Set
PTFE
6 pans
4 lids
$86.31
Yes
Black
4.4
WearEver Pure Living 15-Piece Cookware Set
Ceramic
8 pans
6 lids
$154.99
Yes
Red,
Champagne

4.3
WearEver Pure Living 10-Piece Cookware Set
Ceramic
5 pans
3 lids
$75.00
Yes
Champagne, red

4.3
The 7 columns in the guide are:
Cookware set name & picture (click to view more details or to purchase)
Number of actual cookware pieces, and number of covers
Price – These are current prices on Amazon.com in U.S. dollars. Outside the U.S., click the price in dollars to see the price in your local currency. In some cases prices will be different depending on color and/or style.
Type of nonstick coating (more on coating materials below)
Whether the  set is dishwasher safe
Color options
Rating – This is the average user rating on Amazon.com. It can be very helpful in deciding whether people were satisfied with their purchase.
Nonstick Coating Materials
The type of nonstick coating is very important to some people. Some brands are very up front about what their coating is made from, and some are less up front. But all nonstick cookware currently widely available falls into one of two categories, PTFE or ceramic.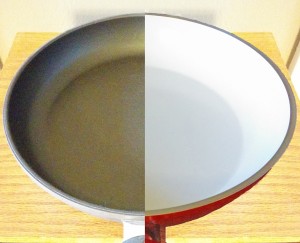 PTFE cookware
PTFE is the "classic" nonstick material made famous by the brand Teflon. While it is extremely functional, some are concerned about its safety. When overheated, PTFE coatings can break down and release gases.
You can use PTFE cookware safely as long as you use it properly. 500ºF is the maximum  temperature recommended for cooking with PTFE cookware.
If you own birds, you may want to avoid PTFE cookware. Birds are much more sensitive to PTFE fumes than humans are.
When baking, roasting or espcially broiling with PTFE cookware, make sure to check the manufacturers recommended maximum oven safe temperature. For stovetop cooking, keep the following tips in mind:
Always cook on low to medium heat. Never cook with high heat.
Never preheat an empty pan.
If you're not cooking with a broth or liquid that absorbs heat, pay close attention to your cooking surface. Foods that coat most of the pan's surface will help keep temperatures down.
Use extra care when using lightweight cookware. Lightweight pans heat faster than heavier pans.
Pay attention while cooking. Never leave a pan unattended.
Some PTFE cookware is manufactured using a a chemical called PFOA. If you're concerned about the environmental impact of your cookware, you want to avoid sets manufactured using PFOA. After reaching an agreement with the EPA, the major manufacturers of PTFE cookware are phasing out the use of PFOA completely by 2015. The Discovery Channel made an interesting short video on how PTFE cookware is made:
Ceramic cookware
Ceramic is a newer material in the world of nonstick cookware. It's widely considered to be the safest and most environmentally friendly option. It's free of PTFE and PFOA, and comes in a wide variety of styles and colors.
Some argue that it has a shorter life span than PTFE cookware. However cookware life span can be dramatically affected by your style of cooking.
If you cook with oil, it's critical to completely clean off all of the cooked oil after each use. Otherwise layers of oil will build up, diminishing the nonstick properties of the cookware. But unfortunately if you vigorously scrub off the layers of oil, you inevitably take the nonstick surface with it. This can cause the cookware to age prematurely.
The easy way out of this conundrum is to not use oil. For this reason, and more importantly for health reasons, we recommend cooking without any oil at all.
Oil free cooking
We here at the nonstick cookware guide cook with no oil at all. We encourage you to give it a try! It is definitely different than cooking with oil. Some things cook faster, and some things cook slower. Once you get used to it, you'll find that you can cook all the same foods just as deliciously as you can cooking with oil.
Cooking with oil is so widespread in modern western culture that many people have a hard time even conceiving of cooking without it. But it definitely can be done, and it can have a huge impact on your health (and also on the life of your cookware!).
Oil is 100% fat. The benefits of a low fat diet are widely documented. Eliminating oil from your cooking is an important component of a healthy diet.
Caring for your nonstick cookware
Always use bamboo or wooden utensils when cooking with nonstick cookware. Metal utensils will damage your cookware regardless of what some manufacturers claim.
Never use steel wool to clean your nonstick cookware. Clean your cookware with a natural sponge or soft plastic brush. Avoid stacking nonstick pans, as the metal bottoms can scratch the pan beneath. If you need to stack the pans due to lack of storage space, put a paper towel or other liner between them.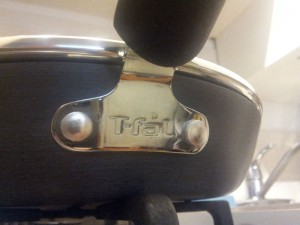 So what's the best nonstick cookware set for you?
When you purchase a cookware set, you don't want to have to think about purchasing more cookware any time soon. So it's important think of it as an investment. First determine your price limit, then find the best quality set in that range that fits your needs.
The number of pieces you need depends on the type of foods you want to cook. If you like to cook multiple side dishes you will need a set with more pieces.
Depending how many people you're cooking for, you should consider pan sizes. If you're cooking for several people you'll want larger pans. Smaller pans are more efficient if you're cooking for just one or two.
If you're cooking out of necessity, you want to focus on convenience. If you have a dishwasher, make sure the set you purchase is dishwasher safe. However, even if it is dishwasher safe, you will improve the longevity of the pan by washing it by hand.
If you're cooking for pleasure, focus on features that will enhance your cooking experience. You may want extra pans or pots so that you can cook side dishes at the same time as the main course. You might want to focus on details like rubberized handles, or colored pans that you can display in your kitchen or while serving food.
Remember that if you can't find the perfect set, you can always buy pans individually. Sets are usually more cost effective, but they don't make sense if you're getting things you're not going to use. Ultimately the best nonstick cookware set for you might be a collection of many different brands, based on your specific needs.