Whether you are trying to save money, drink more water, make your own varieties of soda, save yourself from extra trips to the supermarket hauling extra heavy grocery bags, help the environment, or all of the above, a home soda/seltzer maker is the way to go.
Because more and more people are realizing the multiple benefits of home soda makers, there are now several on the market to choose from. But with so many out there, it's good to do a little bit of homework. Our comparison guide can help you find the best soda maker to suit your preferences.
Below the guide, the column titles are explained. You'll also find more in-depth information about the various features to consider. You can sort the table any way you like by clicking on the column headers. For example you can sort the table by price, liters per cartridge, or rating:
The 6 columns in the guide are:
Model – Unit manufacturer and model name (click to view more details or to purchase)
Maximum liters per cartridge – The size of tank or cartridge the unit is capable of fitting
Price – These are current prices on Amazon.com in U.S. dollars. Outside the U.S., click the price in dollars to see the price in your local currency. In some cases prices will be different depending on which vendors have the unit in stock.
Material – The material that the container is made of
Capacity – The capacity of the container
Rating – This is the average user rating on Amazon.com. It can be very helpful in deciding whether people were satisfied with their purchase.
As you can see in the chart above, there is a wide range of prices, and there are a number of brands to choose from. However currently SodaStream is dominating the market. They have the biggest selection of styles to suit various needs and desires.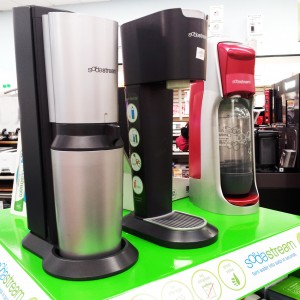 Every day, or once in a while?
There are several factors you'll want to consider when shopping for the best soda maker to suit your needs. One would be frequency of use and the size of carbon tank. If you plan on using it daily, you might want a high capacity carbon tank.
Some models of soda/seltzer makers have the option of utilizing different size carbonating tanks, and some are fitted for only one size. So, decide beforehand whether this matters to you. Many people prefer the option to use a larger tank once they realize how much they use their soda maker. And infrequent users might opt for the single use cartridge style.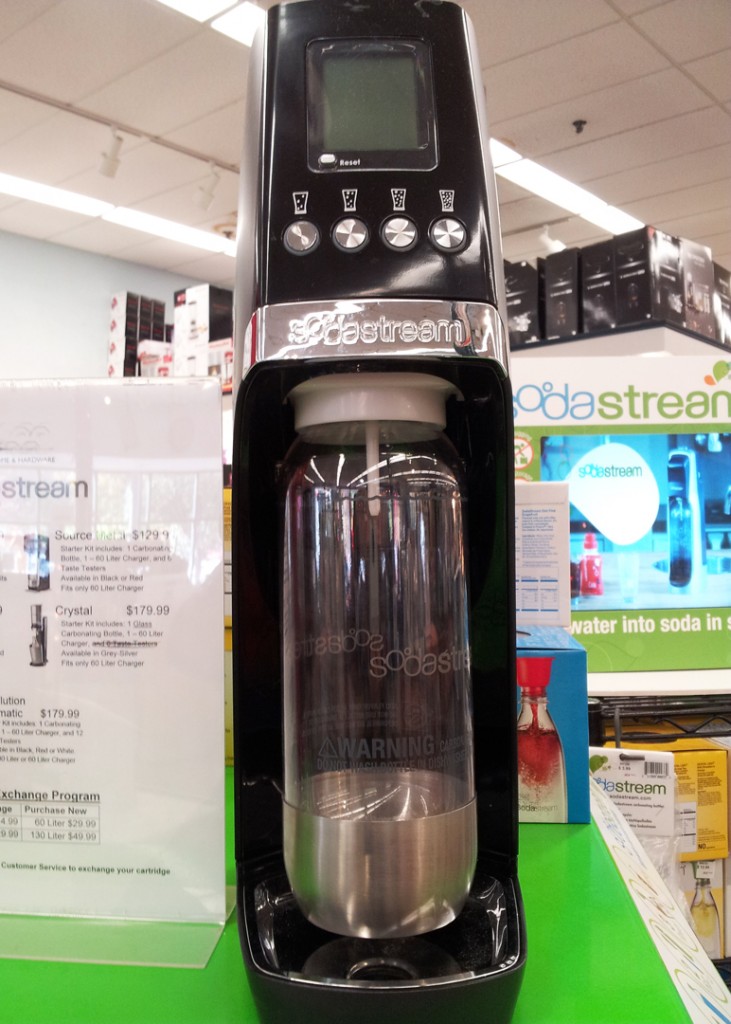 The power is in your hands
For most models, no power is required.  It's just carbonation being let into water, so it really powers itself. But there might be a couple out there that do require power, especially if it has a digital display which monitors carbonation usage. But most models don't have that feature.
The way a soda/seltzer maker works is that you fill your bottle with water (don't overfill!), attach it to the carbonating mechanism (or attach the mechanism to the bottle, depending on the type), and pump. They're generally pretty easy to pump, and each pump mechanism is slightly different.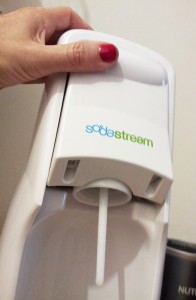 Hands across the water
Ergonomics might be important to you. Some soda makers, such as the very popular SodaStream Jet Home Soda Maker, require two hands when attaching the bottle to the soda maker base. You need one had to press open the top part of the base while the other hand attaches the bottle to it. But it is very straightforward, and a simple design.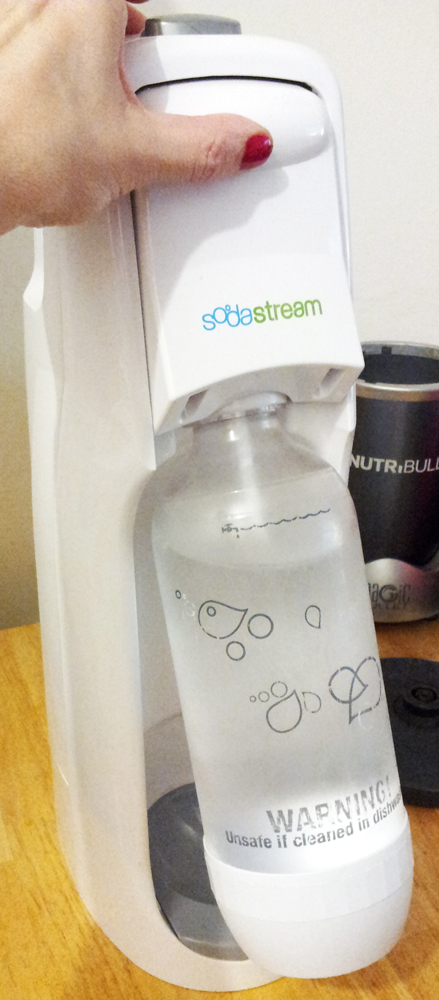 If you have severely arthritic hands or another reason to prevent you from using two hands, or if you just prefer an even easier design, you might want to opt for a model where the bottle simply pops on with a "Snap Lock Bottle Mechanism" such as the Play, the Source, or the Revolution, all by SodaStream.
I'd like a refill please
Since you re-use the same bottles for your beverages, there is no waste or recycling to worry about. When your carbonating tank or cartridge runs out, you swap it for another at a local retailer that sell the brand you've chosen as your best soda maker. When you swap tanks, you get a reduced price on your new tank.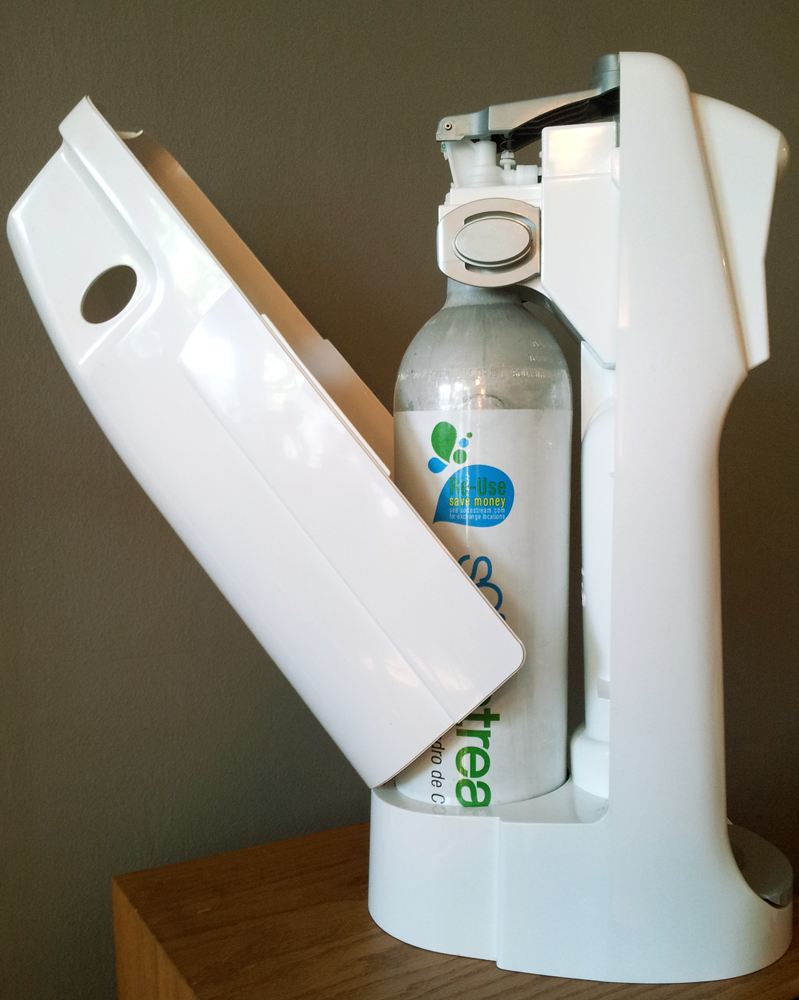 There are some models that have single use cartridges that are disposable and biodegradable. I think in the long run they are more costly than using a soda maker with a large carbonating tank, but some people like the convenience of the single use cartridges. However, like many things, if you buy the cartridges in a larger quantity it could save you some money.
Thirsty yet?
We all know consuming water is necessary and has endless benefits. But sometimes we need a little encouragement to drink it. Sometimes just adding carbonation is enough to make water more enticing.
But if that's not enough to motivate you, you can add your own flavorings. You can keep it healthy by not adding sugar or artificial sweeteners. To keep it simple, you can squeeze a slice of lemon, lime or orange to give it a refreshing burst.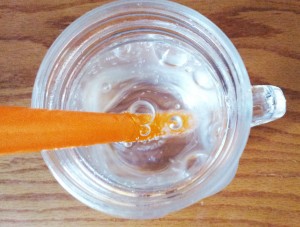 Or you can make your own spritzers by adding a splash of juice. This is a great way to cut calories as well if you are a juice drinker. Since juice itself has a very high sugar content, natural or not, it is loaded with calories. By mixing it with carbonated water you can cut back on unwanted calories and have a satisfying beverage without it tasting watered down as it would with flat water.
There are a number of recipes and tutorial videos on how to make your own syrups to add to your home made seltzer/soda. Just be careful, many of them add much too much sugar. Here's a video with a couple of healthy recipes you can make using your own seltzer:
Extras
Each brand has its own variety of flavors your can add from cola, to fruit flavors, both full sugar and sugar-free. And you can add flavorings from another brand of soda maker since the flavors are generally added after you carbonate the water. In other words, if you find the best soda maker that works for you, you don't have to be loyal to that brand when it comes to adding flavors.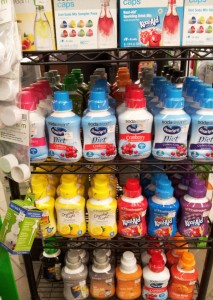 Besides flavorings, there really are not a whole lot of accessories that go along with home soda makers. The only thing you might want to consider is getting an extra bottle so that you can always have a cold one in the fridge. Or perhaps you'd like to keep an extra tank or cartridges on hand so you'll always have bubbles when you want them!
So what's the best soda maker for you?
We hope this helps you find the best soda maker to suit your need and preferences. Please let us know if you have any questions, or if there are any other brands or models we should know about.  We'll check them out and include them in our handy comparison guide!