In this T-fal cookware review we're focusing on the T-fal Signature 12-Piece Cookware Set C111SC74, the flagship of T-fal's "Signature" line. The set includes 6 pieces of cookware, 3 lids, and 3 utensils. The nonstick coating is made from PTFE.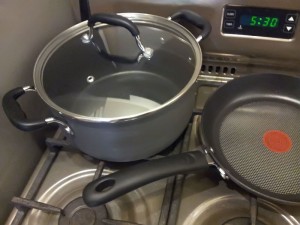 What's included?
The Signature 12-Piece C111SC74 set includes the following pieces:
8-inch saute pan
11-inch saute pan
10.25-inch square griddle
1-quart saucepan with lid
2-quart saucepan with lid
5-quart Dutch Oven with lid
nylon spoon, spatula, and ladle
The Dutch Oven is ideal for making pasta, soups, chili, and the like. The smaller pots are useful for cooking vegetables and smaller servings of soups.
The 11-inch pan can be used to fry or saute for several people, while the 8-inch is ideal for single servings. Overall the set runs on the smaller side, especially the pans.
What is it made of?
The T-fal signature line is solidly constructed of aluminum, with bolted on handles. The pans are deep, and medium in weight. For these reasons the pans heat up fairly quickly.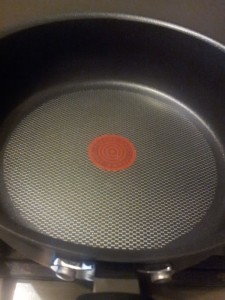 The pans feature T-fal's unique "Thermo-Spot", which tells you when a pan is ready for cooking. It's sort of like preheating an oven. This is especially useful if you're new to cooking. Due to the pans solid construction and flat bottoms, heat distribution is quite even.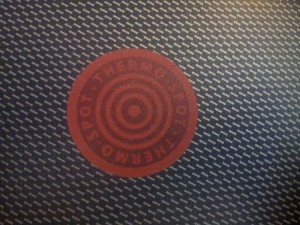 The cookware is coated on the inside and outside with nonstick PTFE. Having nonstick coating on the outside makes the pans especially easy to clean. It also helps them retain their look over time.
The pots are oven safe to 350ºF. The pans are compatible with induction stovetops, and have flat smooth bottoms that work well with all stovetops. However the square griddle has metal ridges surrounding the bottom which might scratch a glass stove top.
The lids are made from glass so you can monitor your cooking. They have a solid feel and feature a steam vent, which reduces the risk of pots boiling over.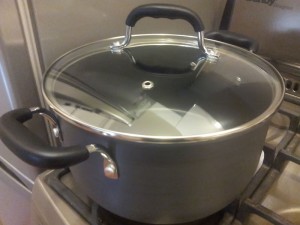 Though T-fal claims that the cookware is "safe to use with metal utensils", we recommend never using metal utensils with any nonstick cookware. The set is dishwasher safe. But it's so easy to clean that we recommend cleaning by hand, which will extend the life of your cookware.
As always we recommend cooking on low to medium heat. Cooking on high heat can release gases from the nonstick coating, and warp your pans.
What does the set look and feel like?
The set is available in black, blue, and red. Black will hide wear the best, but if you keep your cookware clean this shouldn't be an issue.
The handles are rubberized and quite ergonomic. They stay cool even when the pans are quite hot. The design is fairly basic, but the charcoal outside finish is sleek and contemporary. Overall it is extremely functional and handles it's weight well.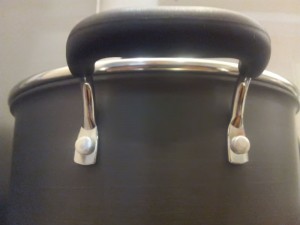 What else do you need to know from this T-fal cookware review?
T-fal makes a several different "12-Piece" sets, that have different combinations of included pieces, piece sizes, etc. The set we reviewed here is the C111SC74. If you're not buying this particular set, make sure you check carefully to see which pieces are included.
If you shop at Amazon, the C111SC74 set comes in "frustration free packaging", which we love! It's never a hassle to unpack, and it's also good for the environment. A win/win!
Though most nonstick cookware manufacturers suggest you "season" your cookware with oil, we recommend never using any oil at all. Besides adding unnecessary fat to your diet, oil builds up on your cookware and significantly shortens it's life span.
Pros and Cons
Pros:
– Easy to clean
– Non-stick
– Thermo-spot lets you know when the pan is ready
– great grips
Cons:
– no lids for the skillets
– skillets are on the small side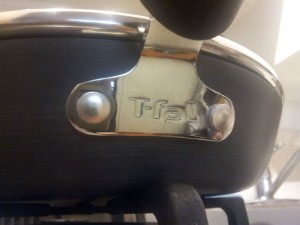 T-fal is one of the best selling names in nonstick cookware. They have built their reputation on selling quality cookware at a reasonable price, and this set is no exception. If you're looking for a reliable cookware set at a reasonable price, the C111SC74 might be a good set for you.