Nutritional information is included at the bottom of this recipe.
Nothing fishy going on around here!
We've got a very quick and simple vegan tuna salad recipe that's super low in fat and satisfyingly delicious. We can't take all the credit for it though. The recipe was inspired by Mimi Loureiro's incredibly yummy and hugely popular "Chuna Melt" at her O2 Vegan Cafe in Cambridge, MA.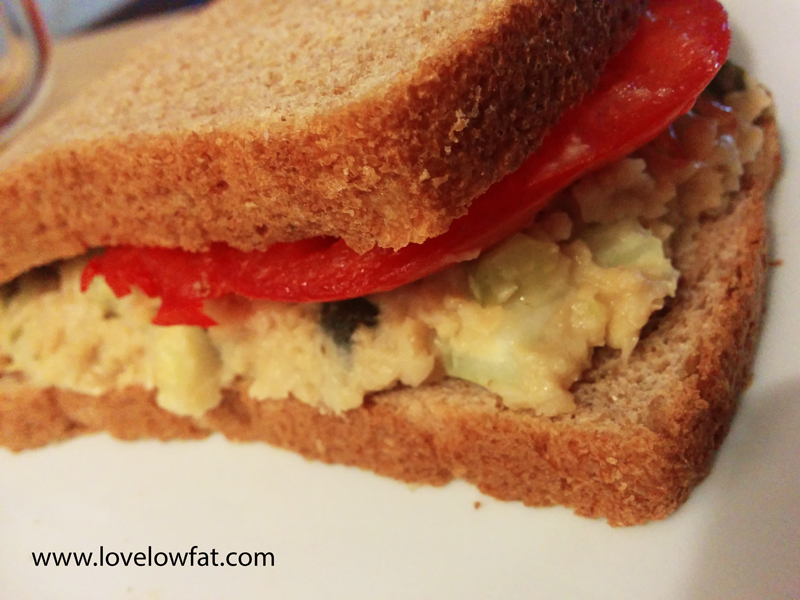 This vegan tuna salad is one of our go to meals when we are feeling super hungry but don't want to cook. It literally takes minutes to prepare and always hits the spot!
Vegan tuna salad
Here's what you'll need:
15 oz can organic garbanzo beans (also known as chickpeas), drained and rinsed (or 1.5 cups cooked from dry beans)
2 large stalks of celery, finely chopped
1/3 cup chopped dill pickles
2 tablespoons Vegan Light Nayonaise
1 tablespoon finely chopped organic kelp
1 teaspoon white vinegar
salt and pepper to taste
Optional ingredients: onion, tomato and lettuce for sandwich on bread of choice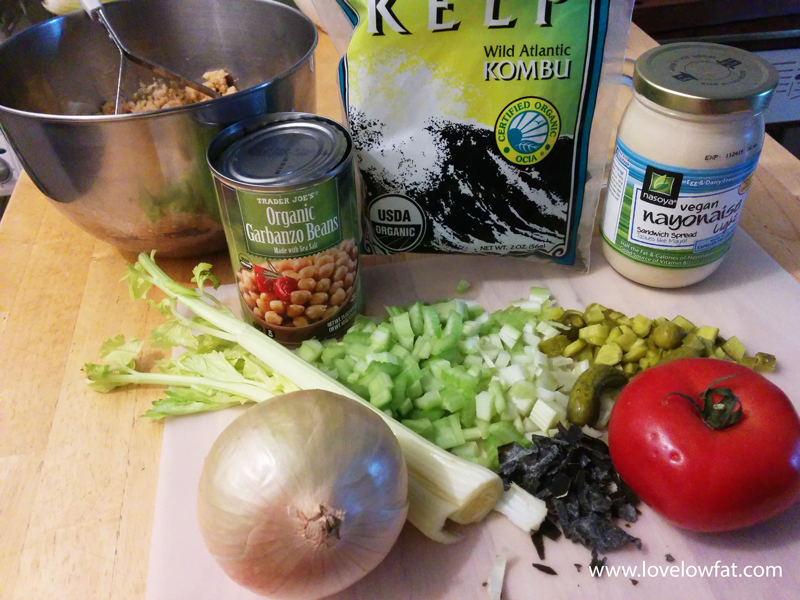 Directions:
1. In a medium mixing bowl, mash the rinsed and drained beans.
2. Add celery, pickles, Nayonaise, kelp and white vinegar. Mix well.
3. Add salt and pepper to taste, although you may not need it.
4. Spread a healthy portion onto your favorite whole grain bread, add a slice of onion, tomato and some lettuce and sink your teeth into it!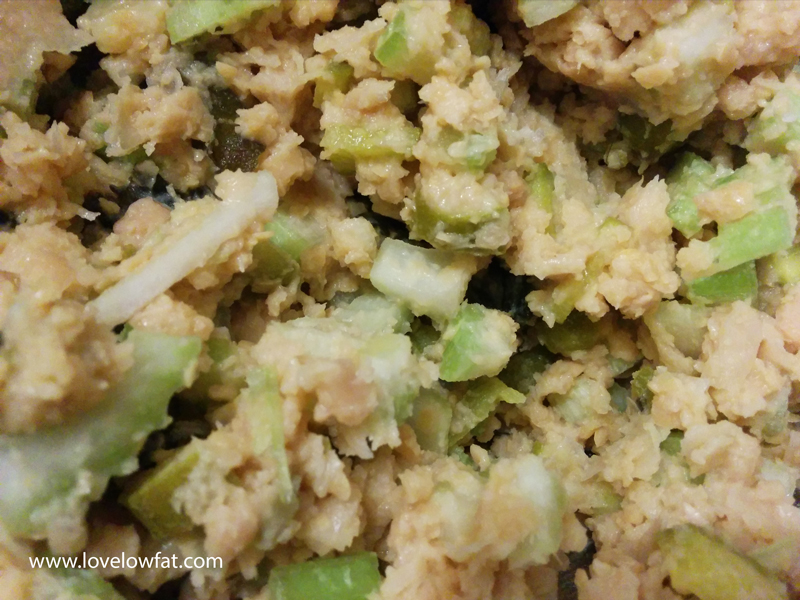 Change it up
For a lighter meal, enjoy it on a bed of fresh greens.
This recipe is easily adaptable to other kinds of beans. We've also used white beans as well as butter beans, both with excellent results.
Also, feel free to modify the amounts of any of the ingredients. You can add more beans if you want more protein. If you're worried about fat, you can cut the Nayonaise in half and add a splash of vinegar to compensate. If you're worried about sodium, you can use low sodium pickles. Sometimes we add extra celery and pickles for even more crunch!
Here's the nutritional information for the recipe. Note that all values are PER SERVING, calculated assuming the recipe makes 4 servings. Note that this is just for the filling, it does NOT include whatever bread, tomato, or other additions to your sandwich or meal.
| Ingredient | Calories | Calories from fat | Fat | Sodium | Carbs | Sugars | Protein |
| --- | --- | --- | --- | --- | --- | --- | --- |
| TOTAL PER SERVING | 46.3 | 10.5 | 1.1g | 290mg | 7g | 0.8g | 2.1g |
| Garbanzo beans | 27.5 | 2.5 | 0.3g | 35mg | 4.8g | 0.3g | 1.5g |
| Celery | 5 | 0.5 | 0g | 25mg | 1g | 0.5g | 0g |
| Dill pickles | 2.5 | 0 | 0g | 155mg | 0.5g | 0g | 0g |
| Nayonaise | 10 | 7.5 | 0.8g | 60mg | 0.5g | 0g | 0.5g |
| Kelp | 1 | 0 | 0g | 15mg | 0.2g | 0g | 0.1g |
| Vinegar | 0.3 | 0 | 0g | 0g | 0g | 0g | 0g |